Case description
The group was tasked with assisting Trackunit in developing a concept to encourage knowledge sharing between the service technicians of their customers. Trackunit is a company who has developed a solution to monitor maintenance for construction vehicles, and have many construction companies as customers, among them Loxam. They would like to develop a system to enable knowledge sharing between the more experienced technicians and the newer technicians. Currently there are no specific guidelines to fix a given issue, it is up to the technician himself. Therefore, experienced technicians have a lot of valuable knowledge that others might not have, thus causing potential excessive downtime when a newer technician encounters a new problem. This downtime is what Trackunit seek to eliminate.
Members of the team:
Heidi Jensen (Experience Design)
Jonas Greve (Interactive Digitale Media)
Luise Degen (Entreprenurial Engeneering)
Mads Christiansen (Entreprenurial Engeneering)
Sine Zefting (Interactive Digitale Media)


Concept video 

The concept we ended up with is a new Trackunit app for the service technicians, where they can share their individual knowledge anonymously with each other: Trackunit Hero. The wanted concept is made to cut down down time and for the service technicians to be more time efficient.
The Trackunit Hero app is connected with the Trackunit Go app. It will show possible solutions to an error within the GO app and have a shortcut to the Hero app if you need to post a question or search for other solutions. 

In the concept video we showed how the service technicians solve the problems now, with calling the OEM's and getting help directly from them. Since this is time consuming for all the involved parts, our concept about a knowledge sharing platform will help the everyday work for the service technicians. In this way they can access a lot of new information already put together by like minded peers.

Final concept video:

The Design Process
Fieldwork –  Own desk research
After the first meeting with the case partner and when we prepared for the two interviews we quickly agreed that we needed to do some desk research. Therefore, we split up the group and did desk research on "Why sharing knowledge?" and "Why not sharing knowledge?". Through this, we got a theoretical insight into the motivation of people to share knowledge or keep knowledge to themselves. This enabled us to focus on the reasons and benefits of sharing knowledge along the whole process, since this aspect was a key driver of the whole project.
Fieldwork – Interview with Martin from Loxam
In our interview with Martin we focused on his experience with the TrackUnit Go App and tried to figure out what could benefit his working flow. From this, we got the new insights that he doesn't use the app – only to measure activity and locate the machines. Also we learned that he would use the app if it could provide him information about who has worked on the machine before and how to solve the problem. Furthermore, Martin explained how there is not one correct answer on how to solve the error codes, but there are multiple ways to get the job done. 
Fieldwork – Interview with Christoffer from TrackUnit
By interviewing Christoffer we got new insight on how the company had problems introducing a new software product and handling customer support. To solve this problem, they created an external platform, where customers helped each other out with their problems. His experience with Schneider Electrics showed that their way to motivate people to help each other was to provide small rewards, such as a "Superhero" title on your profile, which worked well. In the beginning, they used a Community Manager to encourage participation, but with time, the community became self-sustaining.
Through this interview we came up with the name of our solution/product: Trackunit Hero.

Group logo: Trackunit Hero 
Sandbox
Using the sandbox creative method, we laid out the path, visualised the current problem and came up with some of the functionalities of our future solution. By involving figures into the sandbox, we tied various features and criterias to our project, that we had previously not thought of. For example, it became clear that sharing knowledge is a key component in cutting down downtime and it will also enable the technicians to do a better job.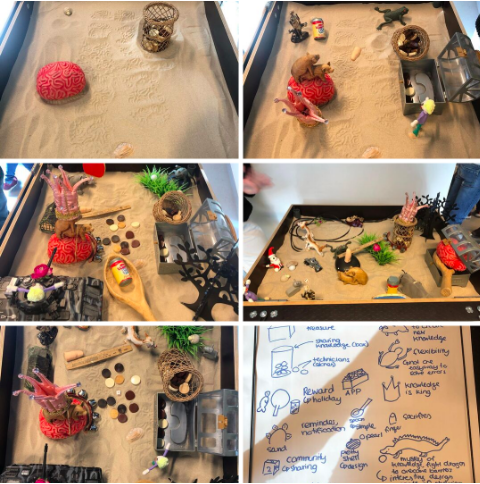 Photos from sandbox 
Affinity Diagram
We used the Affinity Diagram method to get an overview of insights from our fieldwork and from our own research on how to motivate people to share knowledge and why not to share knowledge. From this we created different clusters and ideas to our future concept.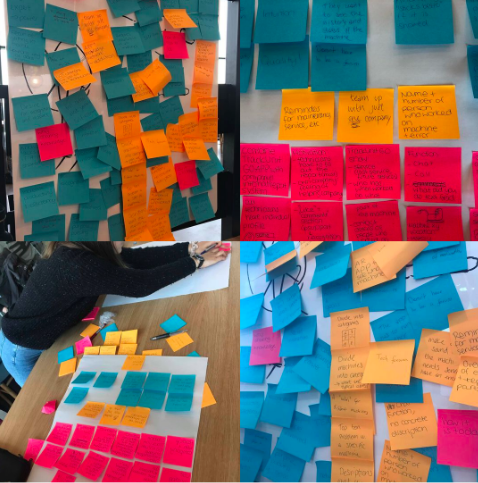 Photos from affinity diagram
Persona
Based on our research we created a persona for the purpose of using this through our design process to help us consider the users needs, how he works and what he desires.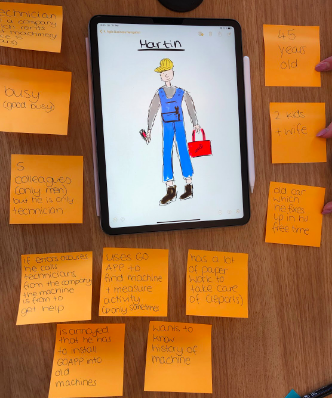 Photo persona
Finding quality criterias and innovation tracks
The quality criterias are an essential part of the concept development phase as this is where we determine what job has to be done. We found the criterias by brainstorming our insights for criterias that final concept should include together with the core design method and we ended up with four quality criterias:
Intuitive

Motivation

Promoting connections

Create value
From this, and with our persona and research in mind, we started brainstorming on different innovation tracks. We all started brainstorming individually to then present the concepts to each other and expand on the ideas together.  After the extensive process of concept development we decided on five individual idea tracks. 
External Q&A platform 

Detailed reports in APP 

Q&A in existing APP 

Contact info in history information 

AR of machinery 
Photos from the process of creating five innovation tracks based on our insights 
Meeting with casepartner
After a week of work, we had a second meeting with our case partner, where we discussed our findings and five different innovation tracks, and which direction they wanted us to continue working with. 
In collaboration with the Trackunit representative we decided that the final concept should be a combination of innovation track 1, 2 and 3 and include all quality criterias. Therefore the concept should be an external application, which can be accessed from the Trackunit Go app. From the app service technicians around the world can share knowledge, find answers on how to solve errors and raise questions about how others would solve the error code. The Trackunit Go app will also be expanded to include more detailed reports. During the meeting and discussion with the Trackunit representative we made new post-its when new ideas arose (see photo below).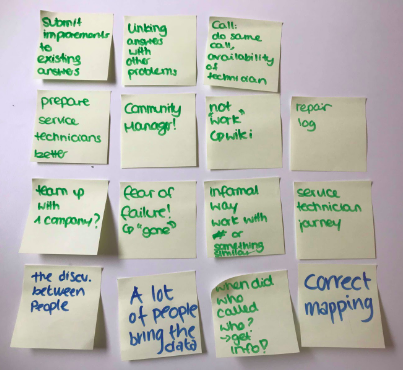 Post-its from case partner meeting 
Video Sketches 
Video 1. The design proces
We wanted to visualise the process we had in developing the idea and the features involved in our solution. By showing the idea process, we can easily justify our chosen criteria and get the viewer involved with our product. We show an illustration of the process with a talkover, so we can easily go through an extensive process and keep it simple.
Video 2. The problem
In this video sketch we wanted to visualize the problem of the service technicians, who are working in order to solve complex problems and reduce the down time of the machines. This knowledge we derived from the interview with the service technician during our field work. In order to come up with solutions, it was important for us to capture the current situation and identify the pain points of the service technicians.
Video 3. The TrackUnit Hero community
We tried to capture the benefits and rewards of participating in the Hero community for every user involved by drawing out the main points. We also added a few words to each point to clarify the meaning of the points for people who see it for the first time. Furthermore, we thought that drawing the entire paper in one take would make the video more fun and involving.
Video 4. How to become a Hero
To brainstorm and illustrate the idea of our Hero concept we made a small stop motion video showing how "Martin" would use the app. We used the sandbox together with the stop motion to illustrate Martin going from a technician to a Hero. This aspect of the app is important to involve the technicians and enhance the good sense of belonging in a community. 
Video 5. How to ask questions and receive answers in the Hero community
In order to get a better understanding of how problems of service technicians could get solved within the hero community, we drew up our basic idea and transformed this process into a video sketch. Through doing this we gained valuable insights into the whole problem solving process and identified pain points, which we needed to further work on.
Testing the concept 
After several iterations of brainstorming within the group we decided to present our concept to a fellow student. Through this, we realized that we first needed to present our audience on Monday a quick overview of Trackunit and introduce them to the task we received from our casepartner. Furthermore, we had to elaborate on the hashtag concept, which should help the service technicians within the Trackunit Hero app, to find similar error codes, machines and platform entries related to their problem. In our presentation we got a lot of questions concerning how a technician should identify the solution needed for his machine specifically, so we need to ensure that this is clarified.
All in all, we got a positive feedback regarding the characters (Daniel and Martin)  we introduced and the structure of our concept. It was clear to our fellow student what the problem of the service technician was and how we wanted to solve this through our solution: Trackunit Hero.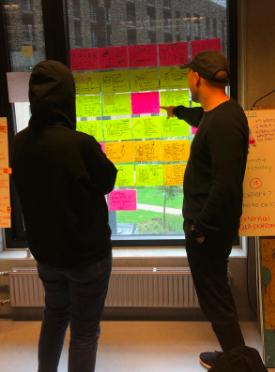 Introducing our concept to a fellow student