Case Description
FrontSale.one (FS.o) a StartUp company that currently works within the womenswear industry, and specialises in the marketing and sale of surplus clothing items, helping products reach the right customer, through their network of potential buyers. This allows clothing shops to free up valuable shelf and storage space, but also to focus on their resources on current and in-season products.
Different to outlet stores, FS.o allows clothing items to be sold directly from the store in questions stock, instead of having to be sent to another location first.
This concept works by a shop providing images and data regarding a particular product/s they wish to sell. FS.o then shares the images and product information to its network of Instagram followers. If interested, customers can contact FS.o through their Instagram, whereby the exchange is arranged.
Although operating, FS.o is aware that as the company grows, Instagram may not be the right platform to operate within, and hopes to identify new methods to connect its customers with suppliers.
Members of the team:
Sam Oliver Holyoak
Lucas Peter Elstrøm Bunk
Sarah Emma Jensen
Sara M. Olsen
Louise Nørding
Concept video
Saving Time While Saving Money.
The FrontSale.one Application hunts for your favourite shop's sales in one place, so you don't have to, customising the results for your personal size and style. Notifying you when the right item of clothing, at the right price, becomes available, leaving you with more time for life.
Purchase the items through the app or reserve it to be picked up in the store, where items can be found on the dedicated FrontSale.one clothing rack.
It is the shops task keep their profile in the app and the clothes rack up to date, leaving them with the responsibility of their customer's satisfaction.
The Design Process
Day 1 – Case Partner meeting
Three groups of five students were assigned the FS.o case. Before meeting the case partner, each group individually collected a spectrum of questions based upon the case pamphlet we were handed out.
The three groups then assembled, forming some tables into a U-shape, where Sofie, the representative from FS.o would sit.
A question session then commenced, where people took turns inquiring about different aspects of the company. This was documented through notes, as well as an audio recording.
After the meeting, the group reflected on the session, and identified if there were any inconsistencies, and unclear areas.
Day 2 – Field Work
Mad Skal Spises
One company that we had identified as solving a similar problem, but in a different market was "Mad Skal Spises", a smartphone app that helps notify shoppers which food items are discounted, due to close expiration dates,  and where they can be found. Shops are responsible for updating the content, and the stock levels.
We wanted to test this concept, to see how it worked, and how well it worked.
We later also went into Salling, another supermarket using the platform.
One clear difference between the clothing industry and the food industry, is that food is perishable, and once expired, the food is disposed of.
The two supermarkets had two different ways of displaying their soon to be expired foods. Føtex collected all their refrigerated products in a single area, located in the centre of the store. Although clear where the items were found, some items were stacked over each other. Three of the twelve items on the app were not present, and one of the items was from a different brand than displayed. There were also additional items that were not on the app, as well as dedicated bread section.
Salling had a different approach, although having a discount area, this was only for non-refrigerated items, located in the back of the store. Refrigerated items were placed in their original location, and could be identified with the discount label.
Neither shop had any visual to suggest that they were collaborating with "Mad Skal Spises"
Shopping Street Fieldwork
Clothing stores tend to use their discounted items, that tend to be placed outside, to attract customers into the shop. Shops also use this technique to get rid of stock quickly.  It was noticed that mainly high end shops did not used this technique, as they focused on selling their exclusive, and in season designs.
Only
Only had both discounted items outside the store as well as a final sales rack, with a 20% discount. On the rack, there were only a few sizes of each item, and many different types of product, while the items outside were better organised.
When speaking with the store, they had no issues with storage of unsold items. If pressed for storage space, they just increased discounts, and products would be sold quickly.
Kræs
A former supplier, Kræs, felt that the time involved with using the FS.o service was not worth the sales it generated. With their own webshop, they did not see the point, of uploading the same information twice.
Kræs' customers tend to like to come into the physical shop, to get a feel for an item, and try it on. This could be related to the average age of customers being over 35 years old.
If they really cannot get rid of an item of clothing, they return it the supplier.
B.Young
B.Young a current supplier of FS.o seemed to have both products in the store that could be found on the Instagram, and ones that could not. Interestingly, a yellow dress, that could be found on FS.o for 200DKK, was in the store for 500DKK. B.Young did also not have many things on sale.

H&M
If left with remaining stock, H&M places the item on sale up to three times, adjusting the price accordingly. These items go on sale according to the season,  and did not seem to have issues with storage, at this specific store.
However, if the items were not sold, or the store did not have the facilities to store the item, it could be returned to main storage facility where the item would be placed on the online H&M outlet.
Matas
Matas, a store than sells healthcare and beauty products, similarly puts their surplus products on sale. If they cannot sell the product, it is sent back to the surlier. These products do not tend to expire, only when opened.
With products that have been opened, like testers, they distribute them throughout the city, having deals with companies like the theatre.
Reflection
Unlike the food industry, the clothing industry is does not involve perishable items, and from the general response from stores, they do not seem to struggle with storage space, or selling surplus clothing items.
Originally, FS.o was presenting its self as a sustainable solution to the clothing industry, however, there does not seem to be a case supporting this. No shops mentioned, that they burned their excess clothing, as originally suggested. In addition, not many shops seem to have an issue with selling their surplus clothing items, through the use of sales, and did not have to resort to sending their stock back to suppliers.
Day 3 -Field Work
Meeting with FS.o
We met with Sofie again to update her on our findings from the field work we had preformed the previous day. It also provided us the opportunity to meet with her individually as a group, which provided a better environment for discussion, and two way communication.
We learnt more about FS.o, clearing up uncertainties, and proposing areas of improvement, to see how she reacted. This gave us a better idea of the solution FS.o was looking for.
Interviews with Current Suppliers
Lucas and Sam were sent out to gain some insight from the suppliers currently using FS.o, to see how they experience the app, and the service.
Meanwhile, Louise, Sarah and Sara went to explore some different potential market suppliers.
Unum
Unum, a lifestyle shop that sell unique clothing and other things for homes. 
Initally, the workers at Unum did not initially recognise the name "FrontSale.one" and only knew it by its former name "ShopIt.nu". They have not had any sales through FS.o, but did not have a problem with using it, as they had the time.
Their customers tend to come to the shop for specific brands, or items, usually exclusive to the store. Unum did not see the sales rack as main attraction for the shoppers, and saw it more as an add on items to other purchases.
All the items posted on FS.o could be found on the sales rack, along with other items. They did not have any advertised items hidden away in the storage.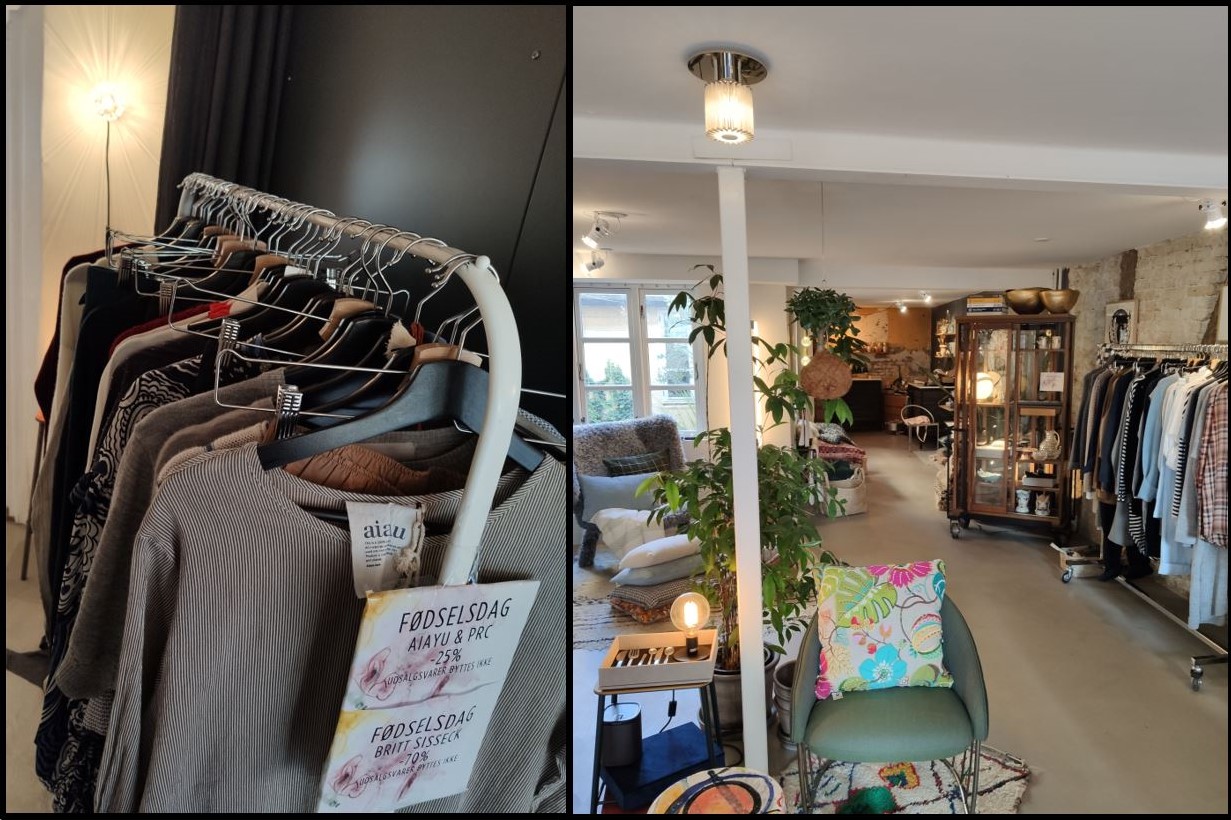 B.Young
B.Young is a women's-wear clothing store with both physical shops as well as an online . As there is not B.Young outlet, the shop in Aalborg has been using FS.o to help sell their surplus stock. They do this by reserving specific items for the sale on FS.o. Some of these products can be found on display in the store, while some are in storage.
The owner of B.Young Aalborg mentioned her frustrations with the time it took to be involved with FS.o, however thought the idea has a lot of potential. 
Items on sale on FS.o had exclusive prices and offers, that couldn't be found in the shops, but would be matched, if asked.
Interviews with Other Markets and Potential Suppliers
Imerco
Imerco (Nytorv) is a kitchenware shop, where all their surplus items are put on sale in December.
Jysk
Jysk (Friis) is a furniture store, where  items that do not get sold in the store, get sent to the warehouse in Skalborg, where items are then redistributed.
Salling
Salling's clothing department in Aalborg would keep their products on sale for as long as possible until sold. If they unable to sell their product then they would keep the best items and send the rest to Salling's store in Aarhus.
Overview of Responses from Potential Shoppers
In general the responses of the Instagram were fairly negative. They agreed that the sales, and the products were good, but the way they were presented could be improved.
There was also a need for more suppliers, but also a way to ensure that FS.o is not a scam.
Day 4 – Sand boxes and Innovation Tracks
Using the object theatre sandbox method we explored how to apply problem to a unique scene, through play. Helping us look at the problem in a more creative way, transforming field-observations and other data into relevant inputs, such as provoking questions and discussion.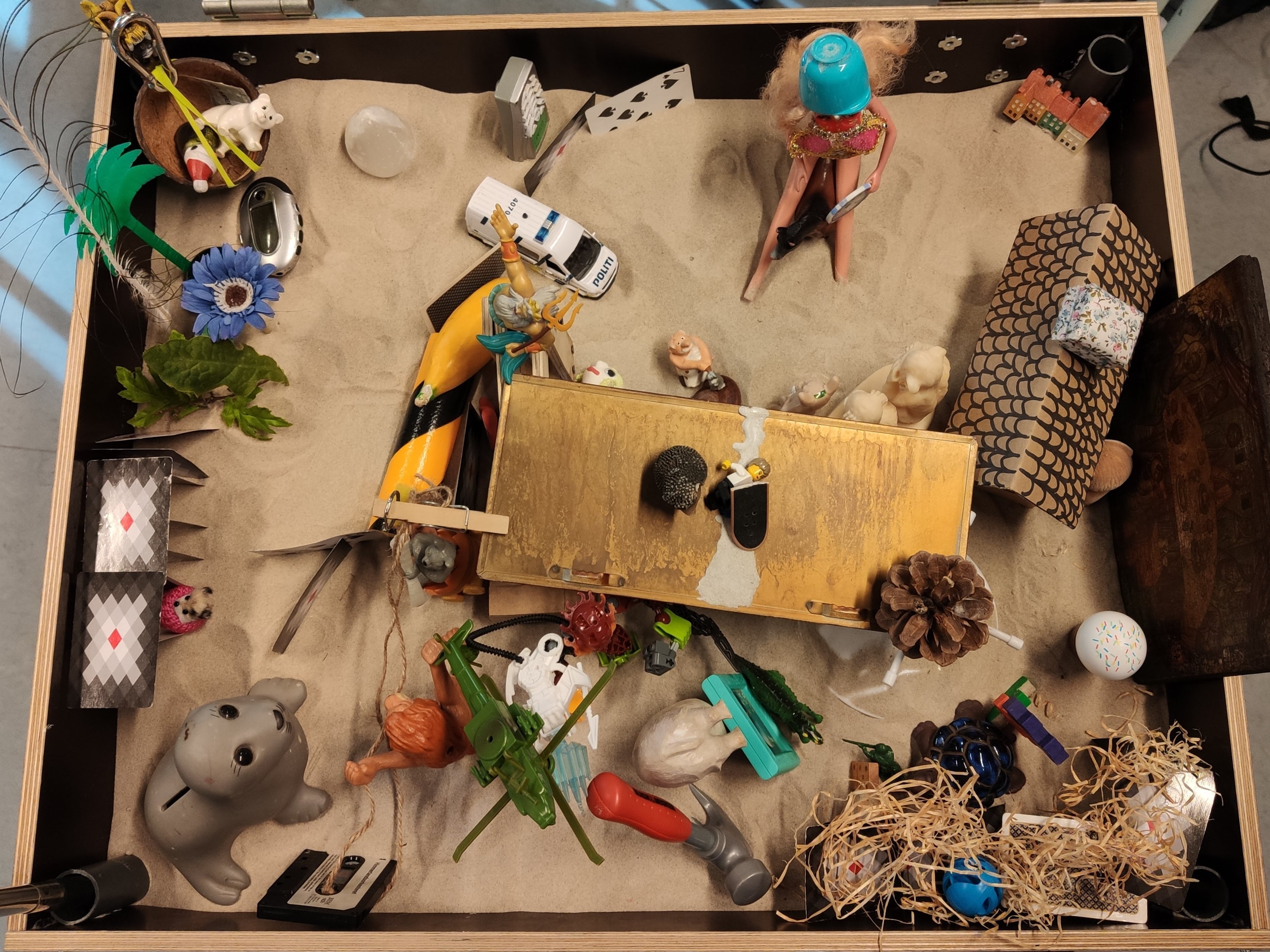 We later collected all our observations and insights to later help create innovation tracks, using an affinity diagram to organise our data. Innovation tracks bring to light potential directions for solutions.
Day 5 – Identifying Innovation Tracks
Starting by outlining all the problems identified during the research stage of the project, we categorised them into the stakeholders they affected. This helped identify the key stakeholders to FS.o and their current issues with the service.
A single quality criteria was added to each problem, and problems with common solutions were gathered. The criteria with most problems associated with them would be come the core quality criteria, and the outer circles.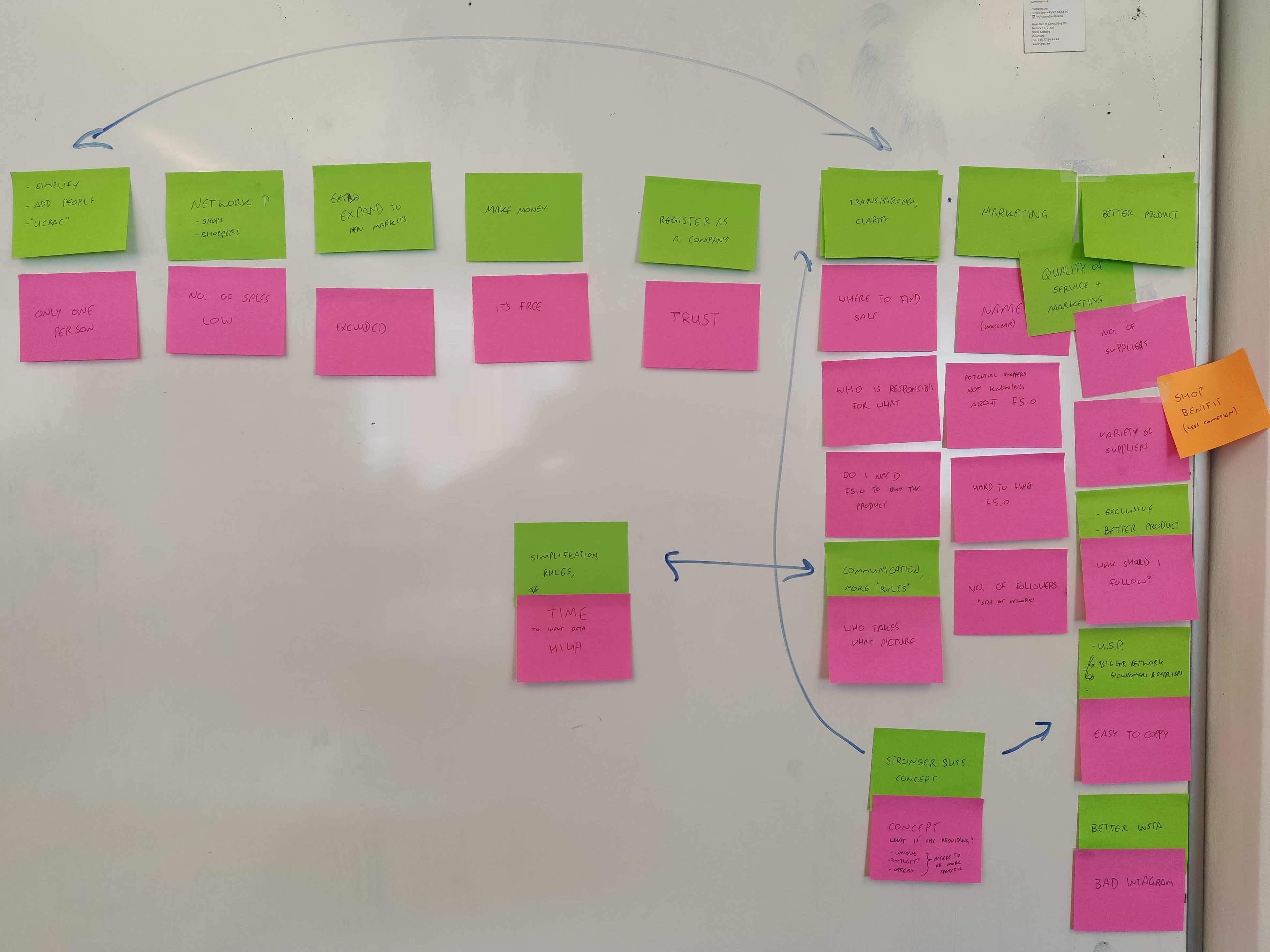 With the potential solutions we had come up with over the previous week, we could see how well the idea's features and content could fulfil the quality criteria. This resulted in five innovation tracks that we believed had the most potential.
Day 6 – Case Partner Meeting
We presented our five different innovation tracks and explained our different quality criteria and got her input.
After talking we agreed to combine different ideas from the innovation tracks and work on a combination of a Frontsale rack in stores and either an app or a website like an online outlet.
The racks in stores should make it easier for the customers to find the items seen on the app or website and get people in the store to check up on Frontsale and the concept
Day 7, 8, 9, 10 –  Group work with animation and video
Buying Process
In this video we wanted to visualize the two different options you have when buying clothes on Frontsale. When you find something you like you can choose to buy immediately and get it sent to your home address or to reserve it and go to the store and buy it. 

The video is made using VideoScribe and based on our storyboard of how we wanted the process to be based on the information we gathered in the field and from the meetings with our stakeholder.
Concept Prototype – FrontSale.one Application
Using Adobe XD and Photoshop we made a medium fidelity prototype with limited functionality but clickable areas to review the interactions and navigation possibilities of the FrontSale.one application as proposed to our case partner and previewed in the concept video Saving Time While Saving Money. The prototype was built upon storyboards, a series of sketches and states of the application – done collectively – such as a map of available stores in concordance with FrontSale.one. Thereby more easily to present these prototype plots to all stakeholders as well as the impression of a functioning application to derive processes from the range of features such as log in; reserving an item; viewing all available items; browsing a specific stores inventory; and much more.
Link for review of FrontSale.one application https://xd.adobe.com/view/36e843c2-32ab-4828-6eea-8286e3b170c1-40d9/
Upload Guide for Shops
On the frontpage of the app there's a business login. The business login is used by the shops to see current products, delete sold products and upload new ones.
The uploading page allows them to take a picture of the product and fill out information about the product such as quantity, sizes, type of product, price and a description.
Personalised Size Guide
A stop-motion video sketch showing shoppers how they can sign-up in the FrontSale.one application and personalise the item results to show clothing that fit the shopper's sizes specifically. Reducing the number of results, making it easier to find discounted items, that fit.
This was done using a StandScan Box, a series of hand drawn drawings and cut-outs, and a phone, to take photos. The photos were then uploaded and compiled into a stop-motion video using Adobe Premier Pro 2019.