Case description
Aalborg municipality wants to make it easier to live green in Aalborg. For that mission, they have engaged in a collaboration with Alabu Housing associations to make a digital and interactive solution that promotes sustainable behavior.
For this case, they want to create a higher degree of information between the residents and the housing associations, so that residents have better opportunities to engage in volunteer work and social circles, as well as promote sustainable behavior.


Team Members
David Marius Mortensen
Julian Lehmann
Katrine Panch Schaldemann Jensen
Lærke Næsby Andreasen
Case Video

Design Process
Pre-research
Ripping the brief
The project started for the group with receiving the design brief also known as the case description. We approached it by individually reading it carefully and writing down questions about it. In the preceding discussion about the case description we could answer some questions within the group, some questions could not be answered in the group. These question served as a starting point for a semi-structured interview guide for the case partner meeting.
We also prepared an interview guide for residents but later it turned out to be not possible in the time frame to reach out to residents at Alabu Gröneparken.
Stakeholder map
Due to the reason that many different stakeholders were mentioned in the case description, the group felt the urge to visualize the stakeholders and how they are related. A stakeholder map/diagram was drafted in miro.
Empirical work
With our questions and an open mind we visited Alabu Gröneparken and met the case partners there. Collectively with the other groups we interviewed the case partners. The social worker responsible for this housing department gave us a tour of as well as of one empty apartment. Walking the area and the apartment together elicited more questions that could directly be answered by the case partners.
The in-field research was later supplemented by some ad-hoc desk research about similar problems.
Impressions from field-work
Affinity Diagram
After our interviews we organized our collected data by writing them down on post-It notes, setting them up one after each other to find the similarities or differences, to create a cluster of information. We then named these clusters to create structure and find themes.
The themes got structured as such:
Stakeholders: all the administrative agent from the municipality and the housing association
Relationships: information about the relationship between the housing association and the residents
Channels: what different tools does the housing association have for communication
Residents: the different kinds of groups living in the area
Challenges: all the challenges presented from the interviews
Social sustainability: Highlights the resources within the community, in regard to social sustainability
Resources: The physical resources around the area
Priorities:
At our current point in the process, we have chosen to prioritize the challenging cluster. Herewith a specific focus on the challenges regarding waste and recycling. We focus on this rather than the communication aspect between Alabu and the residents as we are not sure this will solve the challenges of waste. We are interested in trying to see, how social sustainability could be incorporated into the solution.
We also sense a need for ourselves and our case partners to prioritize the needs of either the stakeholders or the residents. Working on the affinity diagram has emphasized our knowledge gap in residents, how they act, and what jobs they need to have done. For a full overview of our Affinity Diagram, please follow the

affinity diagram – miro board link.

Core Design
After we identified several challenges by applying the Affinity Diagramming method, we took some of the most important challenges and created Core Designs to each of the challenges. The Core Designs were created by identifying and prioritizing the core qualities the future solution should have. By creating multiple versions we explored different innovation tracks that we could pursue later on.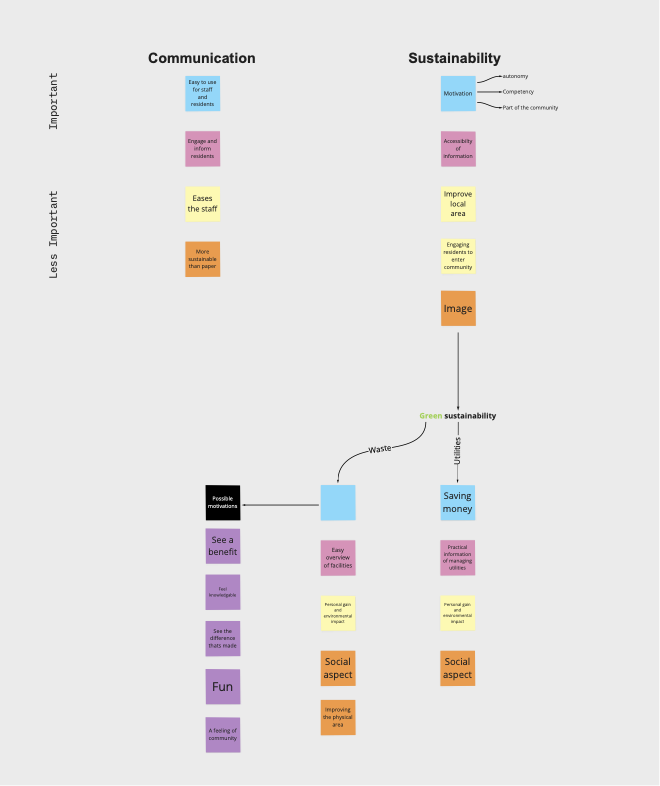 Core Design – *preliminary* contract with case partner representative
In the meeting with our case partner representative Sandra we tried to identify the most important challenge to focus on, by presenting our different core designs. We learned that the housing associations goal is to have their residents use their facilities in the most efficient (&sustainable) way in order to be able to keep housing prices down. We ended up with a preliminary version of it where we merged the challenges into one, supplemented with some theory by Sandra about motivation and how to communicate information that it will be absorbed and put into use (Kairos principle).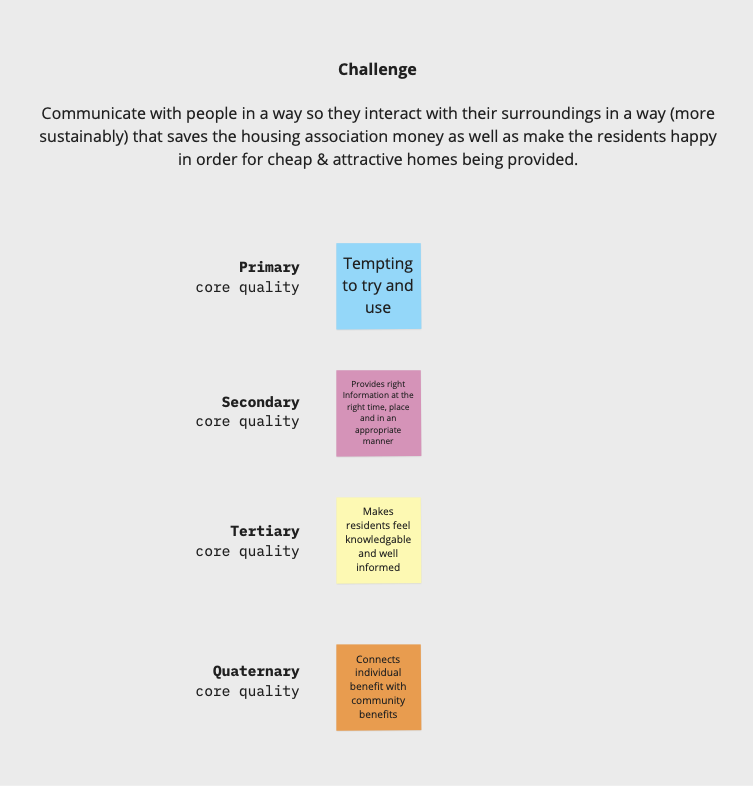 "How Might We" Questions
After we have defined and prioritized our desired core qualities we searched for a "How Might We" question that would give us direction towards the solution space and guidance for the following ideation.
Individually we ideated 3-5 HMW questions which we then shared in the group. We realized that our questions were all on very different abstraction levels, some were very broad and aiming to include many possible solutions, some were very specific.
With the facilitation help of Sören, we managed to find a suitable abstraction level as well as interesting aspects to include in our HMW question such as "engaging learning", "onboarding residents".
We came up with our main HMW question as being:
How might we create an appealing onboarding solution that teaches and motivates the residents to be and stay sustainable?
Ideation Framework
Through individual and group work, we came up with 5 clusters or ideation frameworks, from which we will build our main prototype(s). The clusters are:
Socials: Social initiatives to engage residents in their community and with each other
Gamification: How to introduce gamification to encourage especially the children in the area to participate in sustainability
Interactive info-screen: How a screen in the home may impact resident behaviour and inform as well
Reward/Point system: how we can use reward systems as a motivational factor
Environment and behaviour insights: How the physical environment can play a part in nudging sustainable behaviour.
Sketches of the concepts
From the idea generation and selection process, we created three concepts and created a video sketch of each to illustrate the idea. For all three video sketches we used slightly different approaches and tool sets to create them in order to explore the method of video sketching itself.
Concept 1
In-context explanation videos of efficient use
This video showcases what could be done in order to motivate and teach the residents how to manage their utilities.
Concept 2

Waste management
This video takes you through which features an in home screen could have, to motivate and teach the residents about how to manage their waste.