Members of the team:
Stine Grube Hansen, Nicolai Harning, Camilla Frølund Damgaard Madsen, Christian Nøhr Møhlenberg, Andreas Bjørndahl Toft Pedersen
Week 1
Day 2 – Field trip
On this day we conducted interviews with residents of AAB Silkeborg living in section 18 – Resedasvej.
Day 3 – Analyzing interviews
On this day we started analyzing our data from our interviews from yesterday. It resulted in a affinity diagram and a analyzing of how the communication between the housing association (AAB Silkeborg) and the residents of section 18 – Resedasvej.
Day 4 – using the KJ Method
Today we used the KJ Method to specify our affinity diagram showed in the table underneath. Then we categorised the different insights in new categories: Forbedringer, Beboerengagement and Tilgængelig information.
Day 5 – Core Design
On friday we did three core designs where we only concentrated on the qualitative criteria. We made three core designs which we presented for our case partner AAB Silkeborg.
Core design 1: Beboerne har begrænset kommunikation mellem hinanden

Core design 2: Beboerne har ikke struktur over information

Core design 3: Beboerne føler sig distanceret fra AAB Silkeborg
Week 2
Day 6 – Recap from Friday's case partner meeting and today's progress
Last Friday: We presented our three core designs for our case partner. Our focus for the presentation was clarifying the challenges we found in AAB Silkeborg's communication between them and their recipients.
Monday: Today we used a HMW-question & ideation framework. Through the method, we worked focused with the single idea we created. We experienced that developing specific ideas can be difficult. At the same time the proces of keeping it on a feature / concept level. It was almost impossible to not talk about concrete solutions.
We ended up developing the following three solutions to our HMW-question:
"How might we create a communication platform, that engages residents in the departments daily life".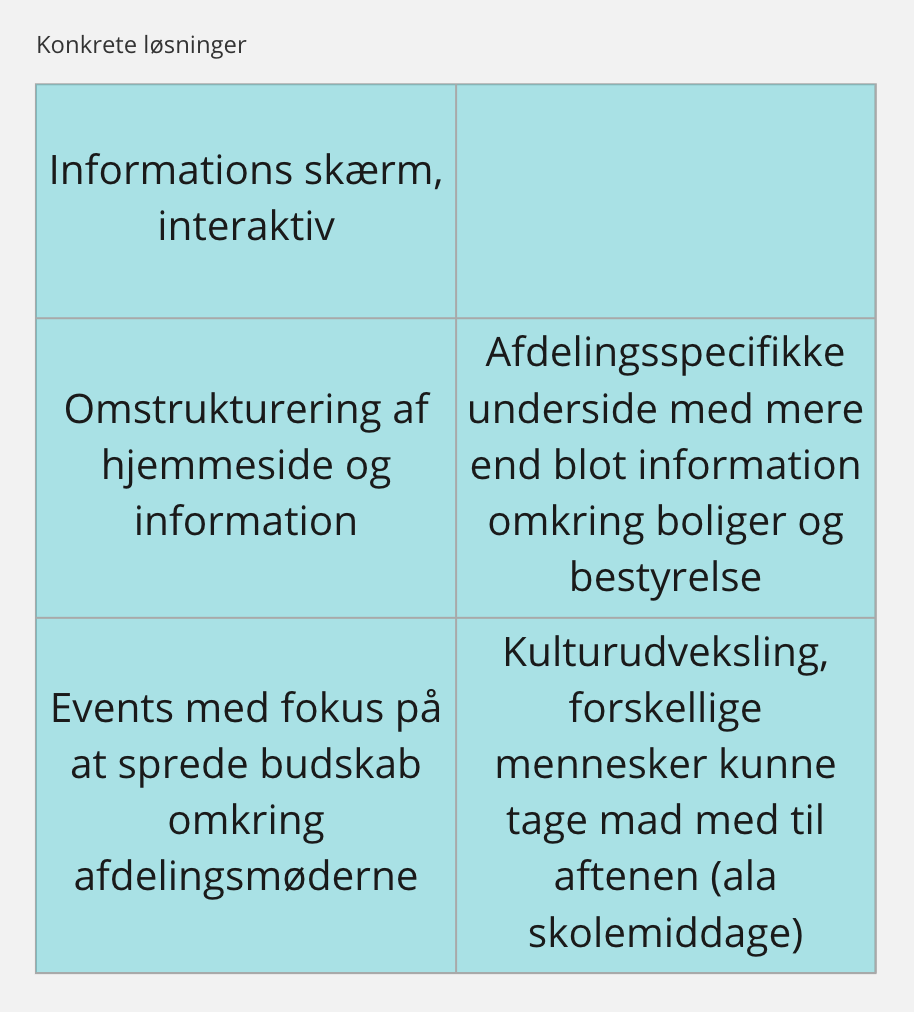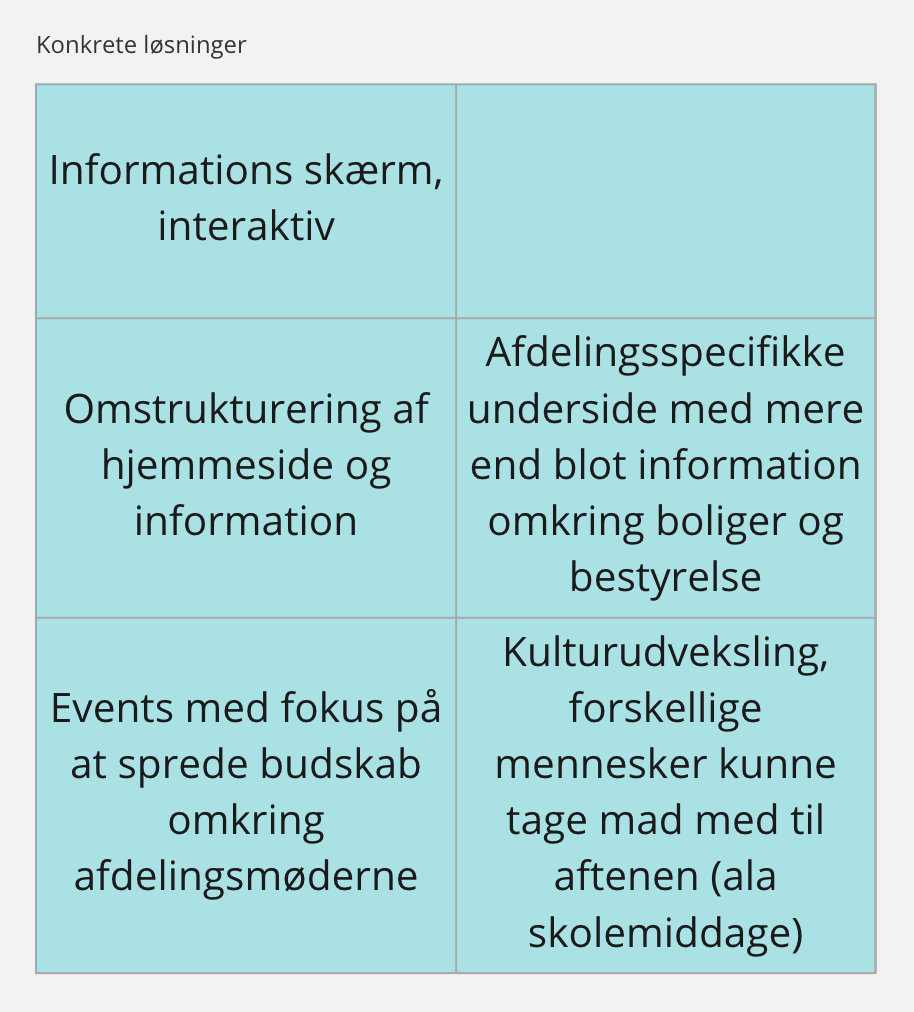 Day 7 and 8
On day 7 we decided which solutions we wanted to proceed to work with. 
On day 8 we made low-medium fidelity videos showing our solution ideas.
One of the ideas was a digital screen, on which the residents could keep themselves updated on news and event. But they could also create events for the community themselves, like football tournaments or knitting clubs. 
Another idea was an updated website which added department specific sites, where information and news relevant only to that department will be posted
A third idea was an interactive information screen placed in central places for the residents. The information screen should provide relevant information about what happens in their specific department, a calendar, a site where the residents can have a say in e.g. AAB Silkeborgs ideas or other residents ideas and also a map with features which should provide with relevant information.
Day 9 – Final sketch video
On this day we did af design critique session where we gathered up with two other groups where we watched each others sketch videos and gave some feedback. That resulted in our final sketch video made in a low-fidelity level which we made by drawing on some paper.
Our final video sketch visualizes scenario where a resident has got a problem and where we show our solution to the residents problem in that specific context.