DYNAUDIO – CASE
The 2018 DYNAUDIO case consists of three major issues; low brand awareness, expanding to reach new target audiences, and providing cutting edge product experiences for customers.
DYNAUDIO was established in 1977. Ever since the company's legacy of producing high-end speakers of supreme sound quality has made it world-renowned. These speakers are highly coveted by customers in professional contexts, such as recording and broadcasting studios. The company has however yet to delve properly into the private market and reach target audiences other than the high-end customer base. As a result of this, brand awareness is relatively low outside of professional contexts. Part of the problem is, that many native Danes being unaware of the brand's legacy and even their existence.
The company seeks to find solutions to these issues, and thus to become a first mover in speaker technology and sound-related customer experiences worldwide.  
Group members:
Cecilie Lambrechtsen Larsen @ ceciliellarsen95@gmail.com
Frederik Deth Hesselholt @ fhesse18@student.aau.dk
Mikkel Mathiasen @ sovseren@gmail.com
Pernille Fibiger @ pernillefibiger95@hotmail.com
Sara Pedersen @ spede18@student.aau.dk
Stephen Chotprom Schott @ stephenchotprom@hotmail.com
Concept video
We present our concept as a solution to the case issues;
Design, customization and backwards compatibility.
DYNAUDIO speakers have always been well known for quality, but regarding visuals and design the products are quite conservative. We propose that the company should focus more on non-high-end speakers by increasing attention put on design processes and bringing in designers from various industries. Introducing more options for customization when purchasing a DYNAUDIO product will help in appealing to more target audiences.
We believe this will solve the issues through greater customer experiences and enabling better usability with DYNAUDIO speakers for all customer groups.  
Design process
Week 1:

Monday
On Monday we were introduced to our case partner DYNAUDIO and the company representative, Christian Ottosen. Christian presented the case to us and gave us insight into how DYNAUDIO works as a company. He also introduced us to their central focus points in development and production. The rest of Monday was spent planning interviews, a company visit etc. among the group members in order to ensure we would get the most out of the appointments.
tuesday
Tuesday was spent preparing questions for Anders who is an audio and hi-fi enthusiast. Anders is currently working in DYNAUDIO's support department. Because of this he has brought home several DYNAUDIO speakers to test them and gain practical knowledge of the products. Furthermore, we spent time preparing for the DYNAUDIO company visit in Skanderborg the following day.
Tuesday afternoon we went to interview Anders. The interview was semi-structured as we had prepared themes and open questions in advance. These themes and questions served to support the progression of the interview, while still allowing for the conversation to flow naturally. Anders also presented to us his various DYNAUDIO products and a large part of the interview was spent talking about these.
Wednesday
Wednesday was the day for our company visit to DYNAUDIO's facilities, office and factory in Skanderborg. Here we were introduced to the company values that DYNAUDIO focuses on during the design and production processes. Furthermore we were given a tour of the factory's different areas and gained insight into how the different components of the speakers were produced. On Wednesday, an interview with Stine (PhD student in audital experiences) was scheduled, but was later canceled because of illness. The company visit to Skanderborg was an incredibly enriching and exciting experience and helped us understand how to shape our concept.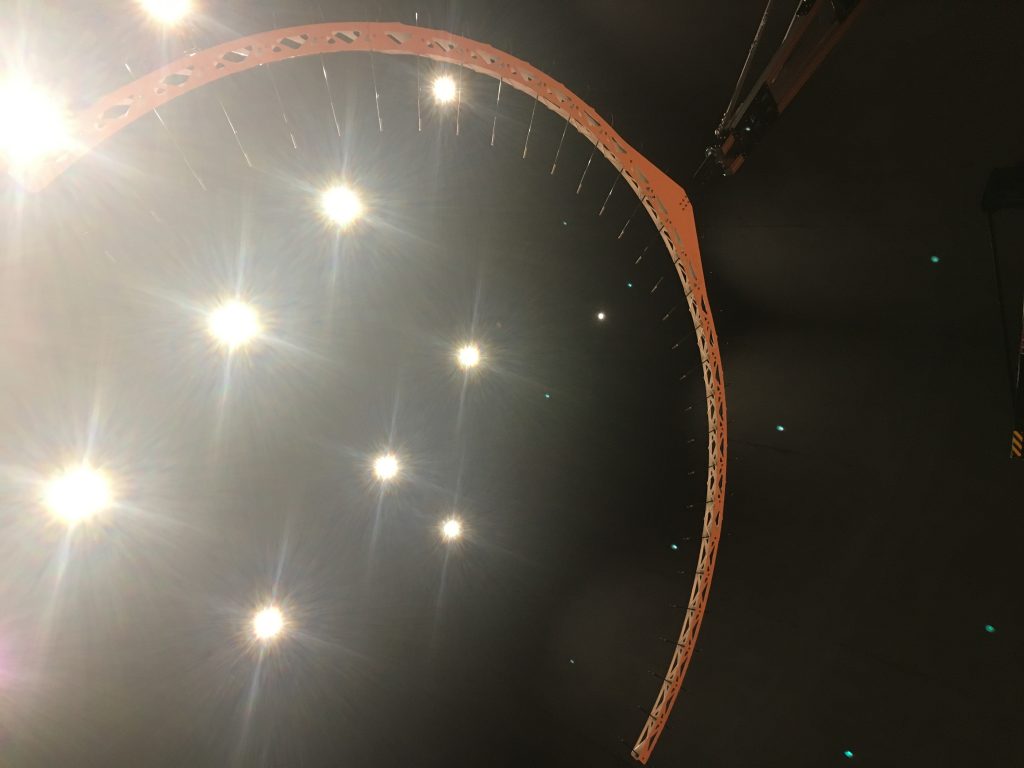 Thursday
Thursday was spent mapping the different angles from which our design process could take its point of departure in – the different innovation tracks. The five best innovation tracks are to be shown to Christian from DYNAUDIO on Monday in the 2nd week of the uCrAc workshop. The process behind the five innovation tracks has been long as it has been unclear to us which directions we were meant to go in, especially in accordance with the values set forward by Christian and DYNAUDIO regarding possible solutions. During our brain storm on Thursday we had a conversation with our teacher, Søren, as we were unsure how to proceed. Eventually we agreed that the directions were very open and we decided to follow what seemed most natural to us.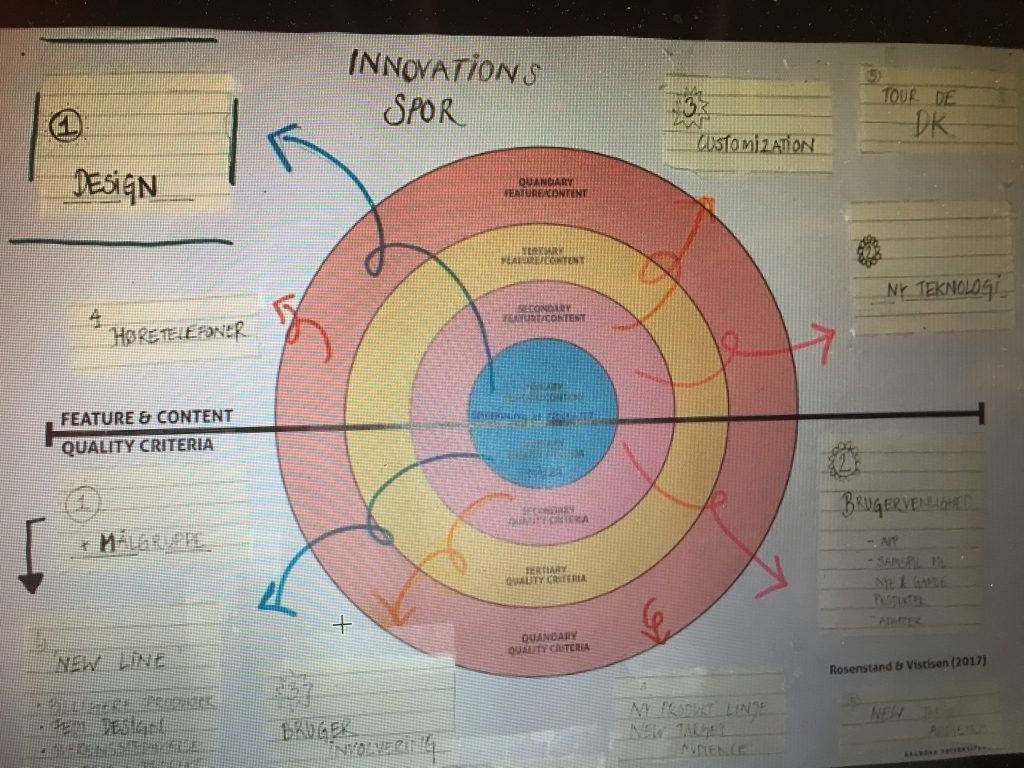 Friday
Friday was spent visiting Lydspecialisten. At Lydspecialisten we were able to ask various questions which could help us proceed in our design process. We were told that Lydspecialisten's customers generally request more interplay between DYNAUDIO's various products, especially between older and newer models. Furthermore, Lydspecialisten emphasized that while DYNAUDIO's products in no way can be faulted for their sound quality, the company has not been able to keep up with general trends and visual design.
After the visit to Lydspecialisten we started mapping the different quality criteria which we believe have a deciding influence on the core design that we will end up developing. If we look at the entire process as a puzzle, the mapping of the different pieces (innovation tracks) has given us better conditions to reach a viable concept. The process took time but has given us a great overview of how the different parts are connected with one another. 
Furthermore, we had mapped our thoughts and ended up with the graph below. The graph explains the different kinds of customer segments: high-end, mainstream and low-end. The graph shows the different segments coherence between price performance and the development of digital and analog audio over time.
The graph helped us figure out, which ideas would be the best for us to develop further.

Week 2:
Monday
Monday was spent on a follow up meeting with Christian Ottosen of DYNAUDIO in order to assess our five innovation tracks. Christian agreed with our core design and that our primary innovation track, "Design", was the correct place to put focus. We presented the idea of our secondary innovation track, "Customization", and he was also optimistic about this. Our third innovation track, "New Technology", was deemed relevant as well, but in the end we agreed that we would rephrase it "Backwards Compatibility" – i.e. that DYNAUDIO should implement technology in its older products in order to enable them to cooperate with newer products. This has been heavily requested among customers and will definitely increase usability.
The fourth innovation track "Headphones" is currently not something DYNAUDIO would consider delving into, even though Christian agreed it was very relevant. Our fifth and final innovation track, "Tour de Denmark", as a concept is something DYNAUDIO has already set up and is currently underway, so naturally we cannot continue developing this track.
Tuesday
Tuesday was spent with a lecture in how to use Stop Motion as a video method. We also had an introduction to the Adobe program Premiere Pro. After the lecture we spent the day preparing various Stop Motion videos which show our five innovation tracks. We ended up being able to prepare and and record three different Stop Motion videos in total. Each showcases the thoughts and processes behind our innovation tracks. We also edited a video in Premiere Pro, which showcases our innovation tracks as well.
Wednesday
Wednesday was spent mainly on preparing and recording the remaining two videos. We decided that the remaining two videos were to be done differently than the previous three which were recorded on Tuesday. We spent more time and effort individually on the final two, and also utilised techniques different than what was used in the making of the first three videos. Because of this we spent more time preparing and also recording them.
Besides recording the last videos we also spent time mapping how our final video concept is going to turn out. We prepared every possible aspect before the critique session on Thursday. Therefor we feel confident that we are on track regarding time management at this point in the process. We also provided the link for our uCrAc page for our client to enable them to give us feedback if deemed necessary.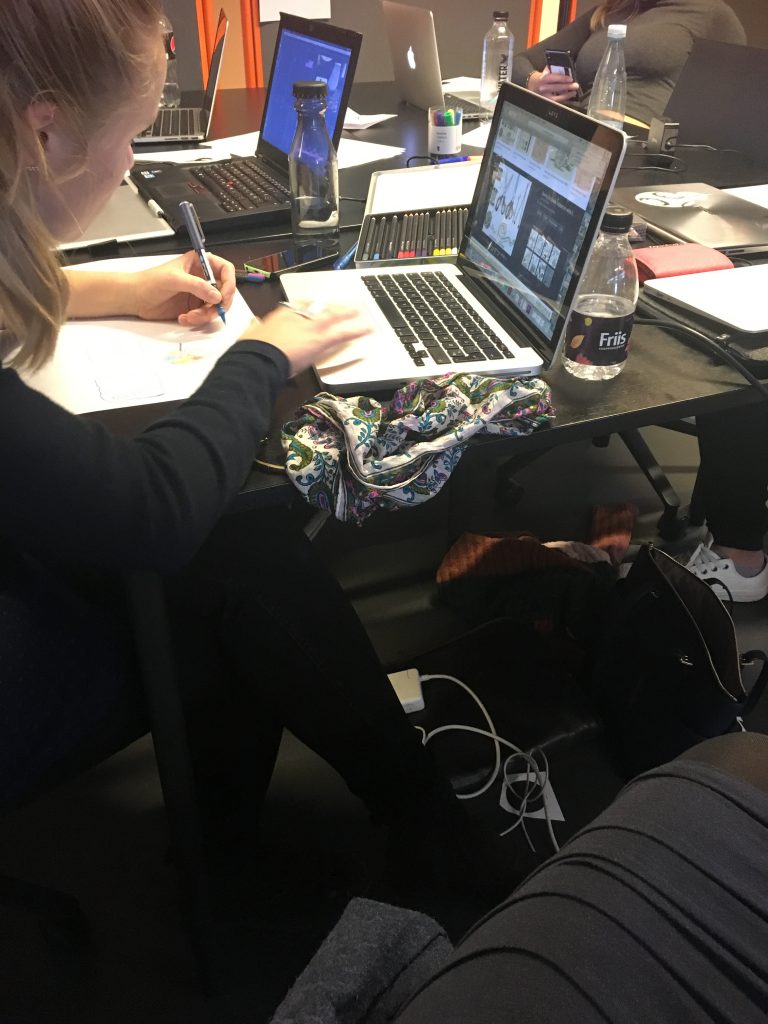 Thursday
Thursday was spent initiating work on the final concept video for DYNAUDIO. We went to work by the green screen station and recorded some video sequences. We also prepared the story board for our concept video.
Before lunch we split up so one half went to participate in the critique session and the other half continued working on the video. Furthermore, we once again contacted our case partner in order to gain permittance to use their press media kit in our project. All of our data (pictures, videos and such from the company visit at DYNAUDIO as well as from Anders) is starting to make sense now as everything is continually being implemented in our final concept. We are quite far in the process. While the final video is continually being worked on we are also creating new stop motion videos. These videos are based on the raw sketches from our innovation tracks. Because of being quite far along in the process we also had time for a longer lunch break with pizza and hygge today.  
Friday
On the last day of the workshop, we spent our time editing the last of our concept video. As stated, we started working on the video onThursday, and has spent a lot of time making the video a bit more advanced, than planned. The process with the video has been long, but fortunately, Mikkel, is very good at working with Premiere, and we all feel, that our final product i good.
At the beginning of the day we quickly split up in smaller groups, as we felt, that it would be easier, to sort out the remaining assignments between us. By doing that, we quickly made a voice-over for the video, and finished the last details on the website.
Concept sketches
Innovation track 1
Design: based on questioning members of our own age group. Supported by the employee (owner) at Lydspecialisten and Anders. → New target audience, supported by our graph of disruption. Through our questioning we argue we have confirmed that the factors which influence speaker shopping the most are design and price.
Innovation track 2
New Technology is based on our interview with Anders. Supported by the employee (owner) at Lydspecialisten. This innovation track would make better conditions for DYNAUDIOs current customers. The new technology could interplay between older and newer products, and can be implemented in older speakers through an adapter to allow them to cooperate with newer ones.
Innovation track 3
Customization: connected to design. Customers will be involved in the design process of their own speakers. This innovation track could also concern speakers built into/as furniture or speakers decorated with art. This innovation track is exclusively based on our own thoughts. 
Cooperation with furniture designers

Cooperation with fashion designers

Cooperation with artists
Innovation track 4
Headphones: potentially in connection to new technology. Developing headphones could be a great way for DYNAUDIO to reach another customer segment.  Headphones could be made in cooperation with Goertek.
New product line → new target audience.
Innovation track 5
Tour de Denmark/Dynaudio on Tour: the recording container from SMUKfest is to be placed in different locations in Denmark. This will create awareness of DYNAUDIO as a brand, both for professional and private customers.